Batch #13: The Breakfast Spy of Manhattan
and everything was PG in the 70s
We hit the John Hughes and James Bond portion of the Movie Cramming Project with this one! I was not impressed with either. Spoiler for the future: I was willing to watch a couple other John Hughes movies, but it'll be a while yet before I can gather the willpower to even attempt another Bond movie; that's how gross this one was.
But this batch ends strong, with 3 solid movies that I would happily recommend.
THE MOVIES
Movie #63: The Breakfast Club (1985) | R
HOLY TERRIBLE EDUCATION PHILOSOPHY, BATMAN
It's interesting watching this movie at 30 and wondering if there would ever have been a time in my life when I identified with any of these characters aside from Allison. I don't think I would have gravitated toward any of the others, even in high school. Because Allison is clearly the coolest and did not need that makeover; is there any debate on this? I don't care. They're wrong.
It's also interesting to me that I didn't connect with it more, since one of my favorite things is when characters start off basic and slowly the layers are peeled back. I mean, that is literally what my published novel is about, except I did it against the backdrop of my characters being kidnapped and held hostage and forced to interact, which honestly was way more fun.
I can see why it speaks to a lot of people, but it doesn't really speak to me, probably because I already wrote most of this as a teenager.
(PS - rewarding sexual harassers is gross, movie would have been better without that, and without either of the romances at the end tbh — and Molly Ringwald agrees with me. You can read her thoughts on the successes and failures of John Hughes's movies in this very thoughtful New Yorker piece.)
(☠ ) Movie #64: The Spy Who Loved Me (1977) | PG
So...that's a James Bond movie.
Let's never do that again. Okay? Okay.
Why? Well, are you a woman? Would you like to feel disrespected, objectified, and condescended to for two hours? LOOK NO FURTHER
On the one hand, this movie is terrible to women, but on the other...no, it's terrible there too.
Stick with the Mission Impossible franchise for better plots, characters, and literally everything else.
(★) Movie #65: Coyote Ugly (2000) | PG-13
I'd heard this movie described as "trashy," but I don't think that could be further from the truth. This is actually a surprisingly wholesome coming-of-age, chasing-your-dreams-in-a-big-city story, where the heroine has a wonderful relationship with her father (John Goodman!), finds support among similarly struggling young people in New York City, builds a solid, respectful relationship with a cute and nerdy boy (omg he trades for rare comic books on the black market, SO NERDY), and learns to overcome her fears and accomplish more than she ever hoped for.
It also does happen to take place largely in a bar where the women wear skimpy clothes and dance suggestively, but watching a whole bunch of savvy women do stuff like chase their dreams, support each other, and exploit men's sexual appetites for their own profit instead of letting men take advantage of them — that's is a heckin' good time in my book.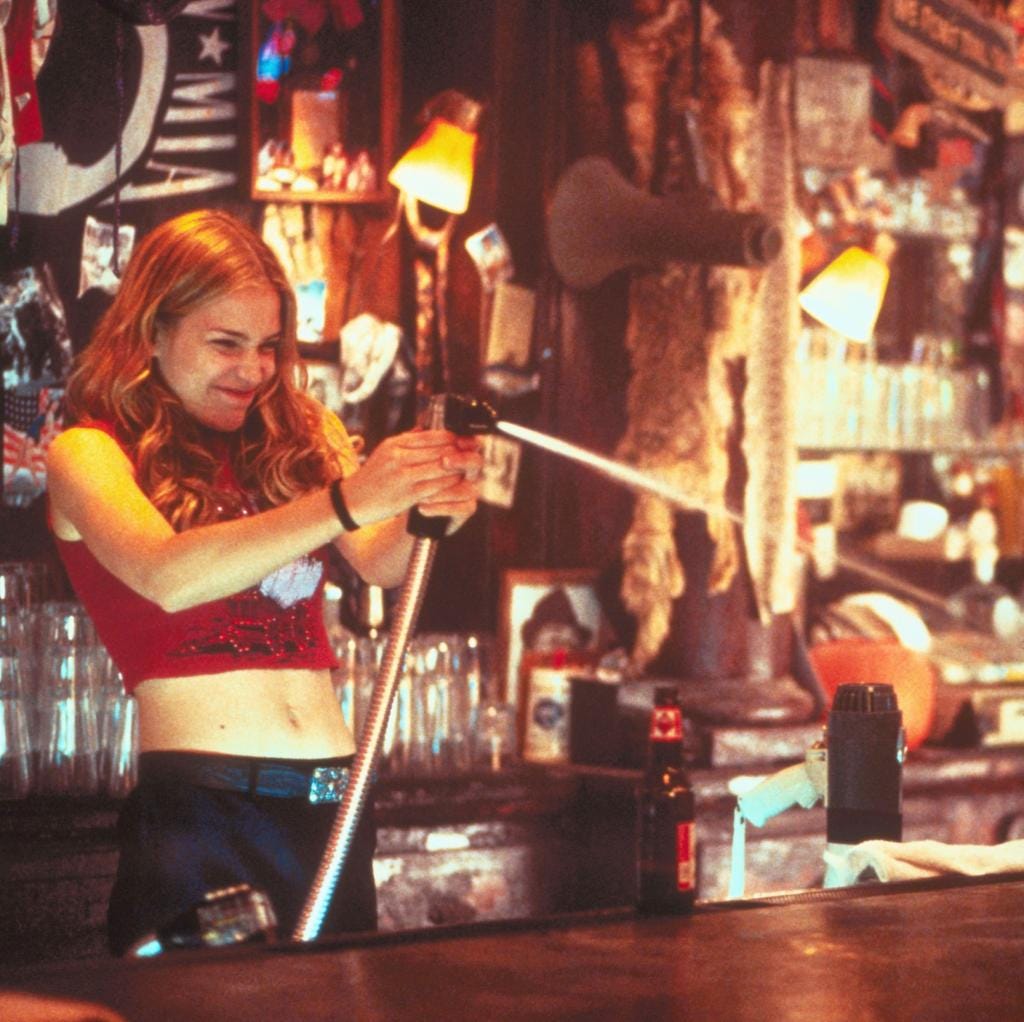 Movie #66: Maid in Manhattan (2002) | PG-13
It is VERY WEIRD watching Voldemort as a romantic hero
It is EVEN WEIRDER to watch a time when a Republican could have a good environmental voting record, wtf is this alternate universe
If I hadn't already starred Coyote Ugly, this would be my favorite of this batch. Like You Got Mail, it's got an element of identity porn — ie, Ralph Fiennes' politician character, Chris, has no idea that JLo is a maid because...rom com circumstances. But unlike You've Got Mail, it never gets to the point where the deception feels icky and manipulative, because they are genuinely connecting, not using prior knowledge to game the connection. JLo's character has lots of opinions on political issues and Chris actually listens to her and finds her input valuable, and there is ultimately acknowledgment of how the deception was wrong, but the connection was real.
(odd side note: I was not a fan of how this movie was weirdly framed as a low-key justification for Richard Nixon — JLo's adorable, precocious kid starts the movie with a speech about Nixon and how he did bad stuff but also good stuff, and later he says to Chris that the bad stuff Nixon did was that he lied, and [SPOILER] then his speech at the press conference where he's trying to win Chris back for his mom is about the importance of forgiving people even if they lie and that everyone deserves a second chance.
Like, it's sweet in a vacuum but in the context of the kid's Nixon rhetoric, it's a bit yikes.)
Movie #67: All the President's Men (1976) | PG
Speaking of Richard Nixon…
I took a brief break from the Movie Cramming Project to treat myself to a rewatch of Captain America: The Winter Soldier, featuring Robert Redford as [SPOILER] a corrupt politician willing to do just about anything for power, so then I figured how about I watch All The President's Men, featuring Robert Redford taking down a corrupt politician willing to do just about anything for power?
I have such good ideas.
The hair in this movie is not great, but the pacing is excellent. It did remind me of when I read the book, in that sometimes the connections happen so fast that I lose the thread, but still feel caught up in the story and the sense of getting closer and closer to something big.
The movie makes the interesting choice to stop before the actual biggest things happen — the revelation of the Nixon tapes, the indictments, the incontrovertible proof against the President and all his men, resulting in Nixon's resignation. I think it made a lot of sense at the time, because it was such recent huge history that everyone knew that part. But honestly nowadays, after so much dilution of Watergate by tacking "-gate" onto every possible scandal, I and those younger than me don't have the same knowledge base regarding how bad the crimes were and how we know they were sanctioned by President Nixon.
And so I wish this movie hadn't ended quite so soon, because it makes it look so easy, while we can all see from our own experience with the current corrupt administration, bringing down something this huge must have taken a lot more than we are shown here.
---
Thanks for reading SM's Movie Cramming Project, where I, SM, watch all the movies so you don't have to. You're welcome. If you liked this batch, feel free to subscribe: