Batch #14: HI, I'M STILL HERE
reviewing dinosaurs, amnesia, magic, and real life scumbags
Hey, I'm back, everyone! Sorry about that!
I really did mean to send these out on a weekly basis but I got overwhelmed looking at all the movies I've watched that I need to review, also I am bad at commitments when no one is guilting me. Oops.
So at this point, I of course did lose access to my YouTube TV DVR — BUT I will be getting it back at the end of October! Because the Sibling Oligarchy is fickle and once the baseball season is over, they want to switch back. Luckily, YouTube TV has a "pause" option that we used, which allows you to keep your DVR even while you're not paying membership, huzzah!
Before the first switch though, I did manage to Cram 146 movies (!), which I will review in this newsletter, pinky promise. I've written short reviews of most of them on facebook, so like, half the battle, right? (Wrong. Maybe 1/4 of the battle.)
Further down the line, you will eventually see the reviews for the movies I am currently Cramming, most of which are on HBO Max, which I have access to for another couple of weeks as part of our new streaming service, AT&T TV (mostly I've been watching Studio Ghibli and everything with Robert Downey Jr. or Chris Evans that I can get my grubby hands on).
THE MOVIES
Movie #68: Jurassic Park (1993) | PG-13
SUCH A GREAT THRILLER, Y'ALL.

I'm pretty sure I'd seen this one before when I was a child, but literally all I could remember about it, aside from the premise and the mosquito used for dinosaur cloning, was that there was one scene where a character feels a hand on their shoulder, and turns around to find that it's a severed bloody arm. That left an indelible impression for some reason.
I had read the book a few years back, and I think that even more people die in that? Not sure. But Michael Crichton wrote the screenplay for this version and made some reasonable choices (or, according to Wikipedia, the guy who reworked his already reworked script made those choices). I think in the book, Grant and Ellie were not love interests, it was much more father-daughterly sort of dynamic. But here, it was a smart choice to weave in that thread implying that there was romantic potential, but his feelings about kids and parenting were an obstacle — so that his time spent with the kids throughout this disaster had a layer of personal significance. Also, the kids genders were swapped, so that the girl was the hacker, which is great, of course.
I find it interesting that Jeff Goldblum's relatively minor character tends to be the face of this franchise in retrospect, the one that I see most referenced and in memes: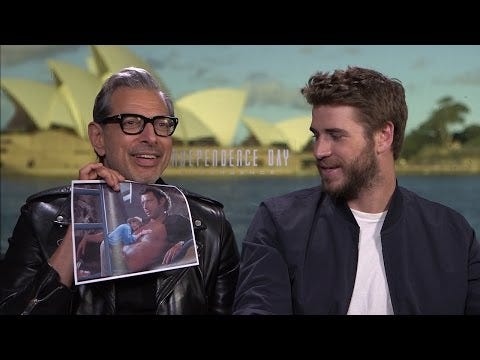 My hypothesis is that he had that shirtless scene and some of the more quotable lines ("Your scientists were so preoccupied with whether they could, they never stopped to think if they should"). And I think he's been in more of the sequels? I'll have to watch them to find out.
Movie #69: The Bourne Identity (2002) | PG-13
Oh heyyyy this is way better than Bond
Have I mentioned that I love amnesia tropes? I know they're almost always ridiculous and unrealistic but I eat them up anyway.
Matt Damon has his fresh-faced wholesome thing going on, which is a great thing to have going on for a character who is a deadly killer, especially one who can't remember it. I enjoyed seeing him turn on a dime when instincts took over, and seeing him struggle to figure out and come to terms with whoever and whatever he is.
I read some of the book ages ago, and from what I recall, aside from the amnesia premise, the plot is basically nothing like what happens here, but that's okay because this way I get TWO amnesia stories instead of one, book version and movie version.
Movie #70: 1776 (1972) | G
ooof this is a loooonnnnnnggggg boi
also lol men are so dramatic
I watched this while cooking for Shabbos, because it is absurdly long and musicals generally aren't my thing, so I wanted to be otherwise occupied. So I can't really comment much on the staging or costumes or whatnot because I won't lie and pretend I was paying closer attention than I was. I had a hard time telling all the white men in gray wigs apart, but that was to be expected.
This was a surprising amount of fun, though I did feel like it dragged around the 2 hour mark, and it was surprisingly irreverent toward the Founding Fathers in places, which I enjoyed. I'm hardly a history buff so there are plenty of more knowledgeable people who could attest to the inaccuracies and erasures in the portrayals, but the only one that really bothered me was Jefferson, because the irreverence didn't seem to extend to him and he was really put on a pedestal here. A lot has been written in recent years about Jefferson's dark sides, but almost none of that makes into this play/movie. At most, there is one moment where he's forced to acknowledge that he owns slaves, but he says he will set them free (spoiler alert: he didn't). The rest of his portrayal is borderline saintification, which, yuck.
But overall, I enjoyed the silliness a lot, and while not all the serious moments worked for me ("Momma, Look Sharp" felt too tonally jarring), I did appreciate the darkness of "Molasses to Rum To Slaves" and how blatant it was about the evils of slavery, and how foundational it was to the original Southern states, which is at least not erasure and not pushing the narrative that "slavery wasn't really that bad."
Also, this G rating is another data point in my case that you could get away with anything in 70's movies.
Movie #71: Get Me Roger Stone (2017) | TV-14
This is one of the few movies I snuck into this project that isn't in my DVR — it's on Netflix, and I watched it after Trump commuted Roger Stone's sentence, because I was hoping to learn a bit more about Stone's criminal activities than just what Wikipedia can tell me.
Unfortunately, this movie seems to have been made before the indictments came down, so it's not much use there. And it also, like All the President's Men, doesn't get into the real nitty gritty of the criminal activities of the Nixon administration that Stone idolizes. Again, it seems like a generational assumption that everyone knows what Nixon was and what he did, so the details don't need to be laid out, and I think that lack of detail weakens the picture being painted.
So from here we get a pretty clear idea that Roger Stone is this gross amoral guy that will use whatever gross tactics he feels like in order to achieve his goals, including spreading deliberate outrageous misinformation and courting the scummiest racists in the electorate. And these are all techniques he passed on to the Trump campaign, as anyone who has been paying the slightest bit of attention can see from Trump's very transparent tactics.
But gross and amoral does not equal criminal, so skating over the actual criminality of Nixon — who Stone has tattooed on his back and enshrined in copious memorabilia throughout his home — leaves out a very important piece of the Roger Stone portrait and why criminal activity is perfectly in line with the Roger Stone ethos to get Trump elected, and why the commutation of his sentence by Trump is such shameful, blatant corruption.
Movie #72: Hocus Pocus (1993) | PG
This one is hard to review because it's just pretty delightful? I feel like I don't have much to say — it's sweet and it's campy and the stakes are high enough to keep you invested all the way through, good kid acting with adults mostly out of the way, and there's a talking centuries-old cat and idk what else you want in a movie? And it's easily the best role I've ever seen Sarah Jessica Parker in.
---
Thanks for reading SM's Movie Cramming Project, where I, SM, watch all the movies so you don't have to. You're welcome. If you liked this batch, feel free to subscribe: