Batch #12: Office Uprising into Oblivion
and a taste of James Dean
I'm not giving any of these a (★) or a skip (☠) because none of them really jumped out at me as something I'd feel like watching again, but none made me feel like, "well, that was a complete waste." There are definitely a few here with unfulfilled potential that probably could have been better than they were, but still mostly had strong elements -- or at least, in the case of Pacific Rim: Uprising, elements that I could see other people liking, even if they aren't really my thing.
THE MOVIES
Movie #57: Oblivion (2013) | PG-13
This is definitely one of those with strong elements that didn't quite come together for me as a truly memorable movie experience.
[Full disclosure: I watched this while experimenting with a new fried chicken recipe, and the smoke alarm may have gone off multiple times, and a firetruck may have come by, so it's possible I wasn't watching this movie with my fullest attention.]
It's a dystopian future where most people except for Tom Cruise and his partner are somewhere else that is not Earth, while Tom Cruise and his partner are cleaning up some last business on Earth. But the situation and the supposed reason they are there is obviously sketchy and so it becomes about peeling back the layers and Tom Cruise figuring out what the heck is actually going on.
And there are some really cool bits in here, and the whole thing is super sleek and classically futuristic. I'm not sure what exactly didn't click for me. Maybe some of the character relationships, because there are just so many layers going on that sometimes it's hard to really connect on a basic human level with all these mysteries in the way, and maybe it's just the feeling that some of these elements are so cool that they should have been able to do more with them. I'm not sure. Give it a watch and let me know.
Movie #59: Pacific Rim: Uprising (2018) | PG-13
So this movie is not very good, in my opinion (and this is my newsletter, so that's whose opinion matters), but there is some primo John Boyega content in here. He's easily the best part of the movie, and his mentorship of the new female prodigy character is adorable, and there is also a fun Chaotic Evil villain for a bit.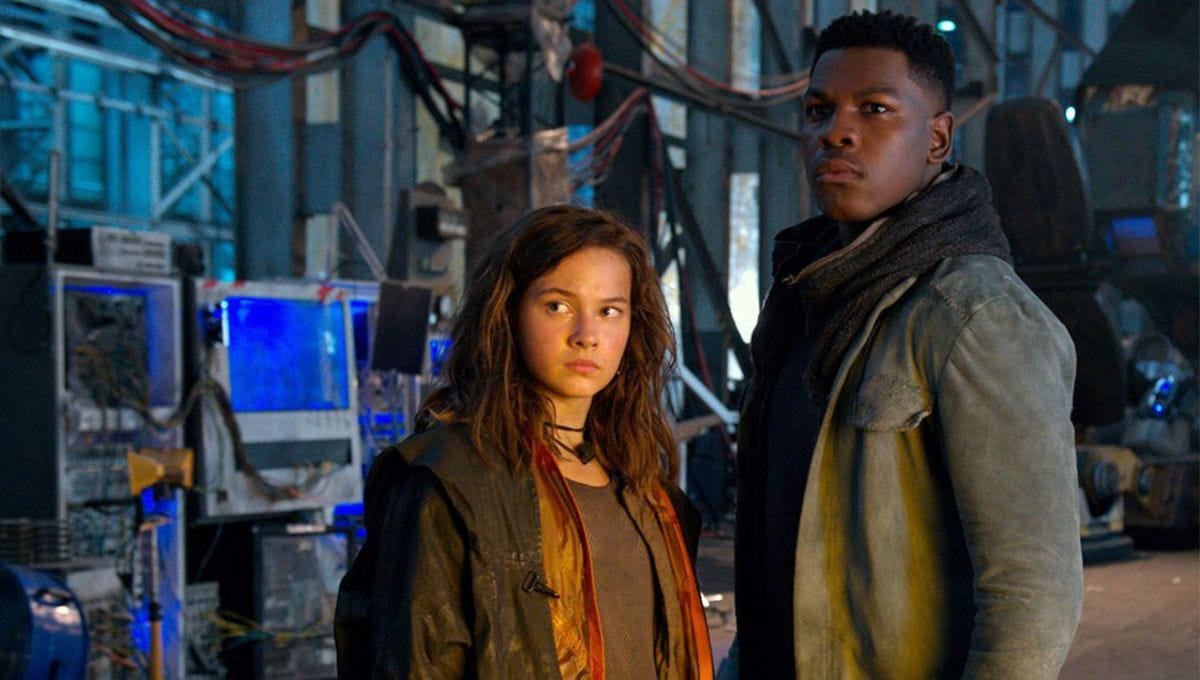 Mostly, it's what these Pacific Rim movies say on the tin: Giant Robots vs. Giant Monsters. If that's your thing, you'll love it. The characterization is just window dressing for that, let's be real.
Movie #60: Tomorrowland (2015) | PG
This movie starts out really great, and it's around ⅔ of the way through that it kinda falls apart and fails to deliver. That last third is enough for me to understand why it was not hugely successful and not particularly memorable, but again, this is one with so many great elements building it up, and may be worth watching for those.
There's a mystery, there are some really great visuals, there's some excellent and entertaining character interplay, and there's an amazing young female character named Athena and I honestly think that actress, Raffey Cassidy, should have won awards for this. (She was nominated for a few, yay!)
There is a Bechdel-test-passing scene in a getaway car with her and the other female lead, which is one of the best Bechdel-test-passing sequences I've seen in a long time, and I am comfortable recommending the movie on that alone.
Unfortunately, I do think that the other weak link, aside from the poor plot payoff, is the other female lead, Casey — either the actress or the direction she received is just weaker, and her performance lacks the depth that Raffey Cassidy and George Clooney give to their roles. But that could have been overlooked much more easily if the story had paid off better.
Movie #61: East of Eden (1955) | PG
We have reached the James Dean portion of my Movie Cramming Project!
I can't necessarily say I recommend this one, because it's got all the old movie issues of overdramatics and time jumps in place of character development (and a really troubling use of disability toward the end), but the central story of a black sheep son trying to win his father's regard is compellingly done.
But the real stars here are the women characters — they have so much more richness and complexity than I expected, and I wish this were a story about Kate and Abra's experiences, because they are fab. Hollywood, remake this from their POVs, pls.
Movie #62: Office Space (1999) | R
Okay so this and Better Off Ted are required viewing for anyone who has ever worked in an office
This is not as clever as Better Off Ted (really, very few things are) but it absolutely comedically captures the frustrations of the minutiae of cubicle life and the many tiny pressures that get put on people to prove that they are good employees -- and then what could happen if someone finally just snapped and stopped buying into it, and then got in wayyyyy over their head in a revenge scheme.
Plus, I've loved Gary Cole since I saw him in Crusade (which it turns out was from the same year as this!) — he's one of those few actors that no matter what he's saying, he gives it such personality; nothing he says ever feels flat. It's subtle, but I love the way he inflects his words. This is the first time I've seen him in a straight-up comedy role, although not the first time I've seen him play a villain, and I now have context for this classic meme: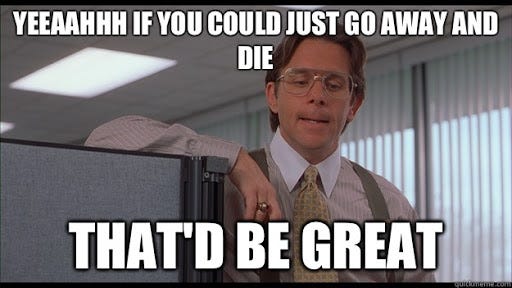 ---
SM's Movie Cramming Project is where I, SM, watch all the movies so that you don't have to. For more Cramming, feel free to subscribe: